This shop has been compensated by Collective Bias, Inc. and its advertiser. All opinions are mine alone. #OwnWhatYouEat #CollectiveBias
Now that I have about six weeks of being a mom under mom belt, I'm starting to feel like I'm really settling into my role as a mom. I always knew I would love being a mom, but I never knew I would love being a mom this much. With that being said, before I became a mom I knew it would be important to still maintain a sense of my pre-baby self. Here are a few ways I'm owning my new "mom status," with the help of Kellogg Special K® products.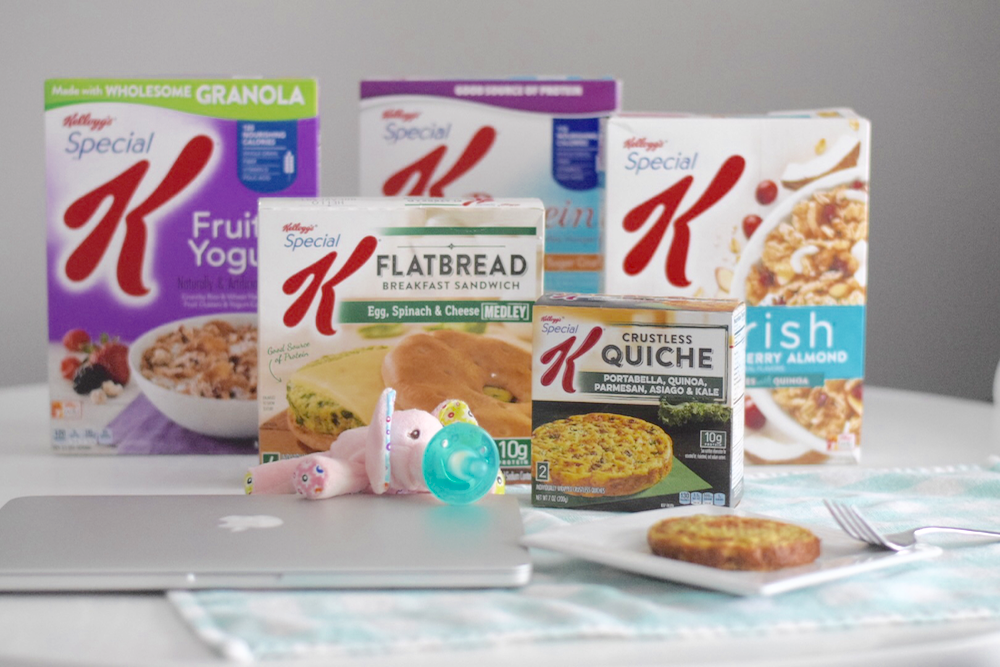 Shop this image by clicking on any of the products and start owning your day!
Date Nights
This is one we haven't had a chance to do just yet, but Brett and I have talked about trying to do one date night a month. We have a date night planned for his birthday later this month, and plans for a spa date in March. We're lucky to have my parents who live close by, plus friends who have offered to babysit little Grace so we can get away together for a few hours.
Girl Time
Now that Grace is taking a bottle for some feedings it's easier for me to get away. The first time I left Grace with Brett, I pretty much sprinted down the street to our neighborhood nail place and asked for the quickest manicure they could give me. I was gone less than an hour and I think Grace slept the entire time. I've since been able to get away for longer periods of time and as much as I hate being away from Grace, I also really enjoy this time away whether it be lunch with girlfriends, a trip to Target on my own (where I can pick up all these great Special K® products!) or shopping with my mom and sister. I also know that it's a great way for Brett to get to spend more one on one time with Grace.
Exercise 
I haven't been cleared to work out just yet, but once I do I'm looking forward to getting back into a routine. I know it won't be as easy to get to Bar Method as often as I would like once I go back to work, so I plan on adding in some at home workouts that I can do in the mornings or at night after Grace goes to sleep. Do you have any favorites? I'm thinking about BBG, but not sure if it's right for me.
Multitask and Prioritize
Before bringing Grace home, I foolishly thought I would have a lot of free time during the day while she napped. Those naps go by so quickly though! They are usually spent tidying up the house, spending time with Riggins and trying to get in a quick meal or snack. I've started making a to do list each morning with what I want to get done each day. It makes me feel like I have a little control over my day and that I've accomplished something more than just keeping Grace happy, fed and rested.
Lately I've been having Special K® handhelds for lunch while I'm catching up on emails when Grace is napping. I can pop the egg, spinach and cheese sandwich (my favorite!) in the microwave and cut up some fresh fruit while it's cooking. It's packed with protein so it keeps me fuller longer, great for days when I don't get a chance for an afternoon snack.
Speaking of snacks, I've found I am much more hungry now that I'm breastfeeding than I was when I was pregnant. Any other new moms feel this way? Having healthy, quick snacks on hand has become essential. I've gotten pretty skilled at preparing a bowl of cereal one handed! The Special K® Nourish Coconut, Cranberry, Almond cereal is packed with healthy whole grains and quinoa, but also satisfies my sweet tooth.
Right now when you shop at Target you can get 10% OFF select Special K® Quiche and Handhelds (through 1/27). 
Click here to learn more about the Kellogg Family Rewards offer for a free Swell water bottle with purchase of three Special K® products!